During the excavation of 1998-2000, the discovery of numerous fragments of columns from the Western Portico of the Forum of the Peace made from pink Aswan (Egypt) granite has made it possible to realize a reconstruction (anastylosis) of seven of these columns during 2015.
The area of the Forum that is currently visible was in fact discovered thanks to excavations carried out by the Municipal Department of Monuments and Cultural Heritage. These excavations have made it possible to locate many of the fragments within the area of the initial collapse which took place during the Middle Ages.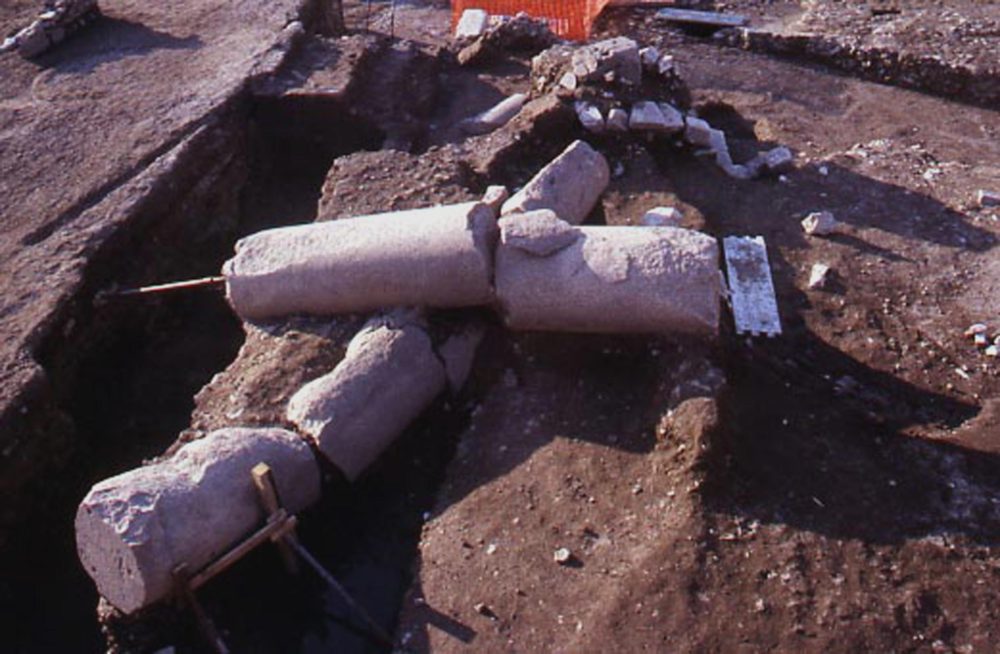 This data, together with the three-dimensional survey of the fragments using a laser scanner and the mineralogical analysis of the pieces, has provided the documentation necessary for the re-composition of the columns and the reconstruction of the original bases in white marble, of which only a few fragments remain.
The columns, each of which is approximately 7 metres tall, rest on a seismic isolator incorporated into the base that uses steel rods to connect the pieces of the consolidated columns to it with titanium rings in the presence of lesions. The gaps in the original pieces (approximately 70% of the total) were filled with integrations of inert granite material of a compatible colour.
The goal of the project is to restore to the public a vision of the original colonnade of the portico, in which the Corinthian order is represented by the only capital that survives, visible behind the columns. The entire project respects the current standards of modern restoration: that interventions should be recognizable and reversible.