Until the beginning of the 20th century the Imperial Fora area was occupied by a large neighborhood resulting from the urban transformation initiated by cardinal Michele Bonelli (1541-1598), called "Alessandrino" for he was born nearby Alessandria in the Piedmont. He towards the end of 1584 promoted the subdivision of the so-called "Garden of Saint Basil", a wide fallow field that was in the area of the ancient Forum of Augustus and that belonged to the Order of the Knights of Malta.
The cardinal was in fact Grand Prior of the Roman seat of the Order and could then use that land, which was divided into regular plots and rented to people, who had the faculty of edify their houses. The new houses were arranged according to a grid street system pivoted on the road that was named "Alessandrina" after the cardinal, as it was the entire neighborhood.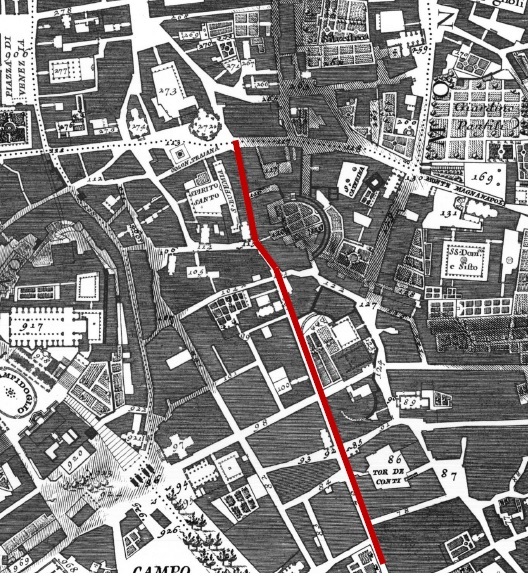 Between 1924 and 1932, Via dei Fori Imperiali was opened and the neighborhood was demolished to make room for the new street and gardens. The excavation carried out in 1998-2000 by the Municipal Department of Monuments and Cultural Heritage brought to light the remains of the demolished structures together with the basement, cellars, and paving which have been partly preserved.
A very important building in the area was the monastery of Sant'Urbano ai Pantani, so called due to the marshy nature of the area before the urban transformation (pantano means marsh). The first monastery was founded in 1263-1264 by a noblewoman named Jacoba di Pietro Bianco, with help of pope Urban IV (1261-1264), and was dedicated to the saint pope Urban I (222-230). Around 1600 the monastery was completely rebuilt by architect Mario Arconio (1575-1635) by the will of another Roman noblewoman: Fulvia Conti Sforza, supported by Cardinal Cesare Baronio (1538-1607).