In the Middle Ages (12th-14th centuries) the upper area of the Markets was occupied by a fortress known as Castello (= Castle) delle Milizie (= troops, soldiers). The high Tower of Milizie is the most important building of the Castle, and is today a distinct feature in the skyline of the Markets.

In the second half of 1500s, the Castle was occupied by the Convent of St. Catherine from Siena which incorporated the Tower. In 1911 they began the first works of demolition of these structures and liberation of the Tower.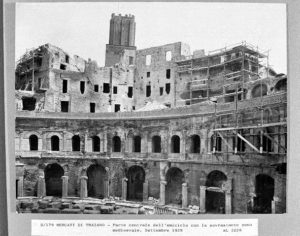 Lastly, during the years between 1926 and 1934, major works were carried out by the art historian and senator Corrado Ricci within the large excavation project undertaken in the Imperial Fora.